As many of my friends know, I am a huge fan of craft brews.  Throughout a few years of college I have had the pleasure to taste a great variety of creatively brewed beers. After I weeded out the Natty, Keystone, and Busch, through a rigorous selection process, these are the 18  beers that  rose to the top.
Please note, after looking at the posted picture, that NO, I did not decide to buy a wallet-emptying amount of 6 packs all at once. This is however a small collection containing the best of the best that I've had the chance to try and will review over the upcoming months.
In my first review I have chosen 1 of all time favorites; Brooklyn Brewery's Black Chocolate Stout.
The first time I tried this was years back and I absolutely HATED IT. Three years later I had the chance to try it again (from the same pack, long story, and if you care to hear shoot me a message). Needless to say, when I tried it again I absolutely loved it. The depth of flavors is ridiculous and gets better with every sip as the beer warms.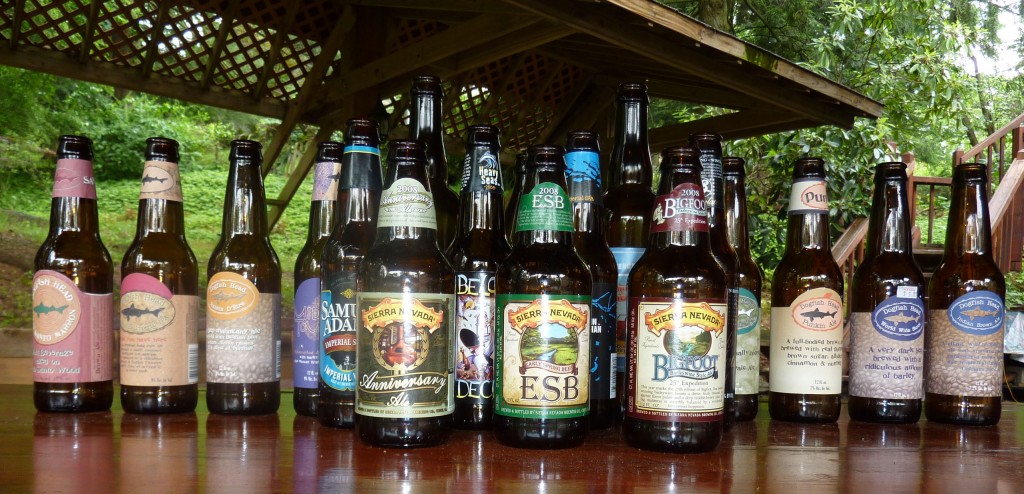 You might say gross, as the beer warms?! Well, with craft brews packed with flavor it is a travesty to cover up all the flavor, aromas, and complexity with a shield of icy coldness. No blue mountains for these beers!
Brooklyn Brewery's Black Chocolate Stout pours jet black with a thin head that dissipates quickly due to its high alcohol content (10.6% during that bottling).  Instantly you get smells of chocolate, coffee, malt, and a distant hint of hops.
The taste is phenomenal! The beer has minimal carbonation  and is very smooth to drink but the flavors just don't stop coming. The flavors mimic the smell very closely and the alcohol content  definitely comes through in the taste by adding a nice edge.  It's like Brooklyn Brewery brewed their chocolate stout and kicked it up a notch at the end with a dash of Muhammad Ali. This beer definitely floats like a butterfly but packs a bee stinging punch.
Even though the time of the year that I am reviewing this is kind of  out of place (not winter, basically 100% humidity, 87 degrees and chance of tornadoes today), I would still recommend this to anyone looking to relax with an extremely complex beer that would suit any dessert well,  especially chocolate mousse or soufflé!
[poll id="7″]