Raviolis are back once again, except I didn't make them this time. I recently had the pleasure (30 minutes ago) of feasting on some of Bongo & Capacci's Homemade Sweet Potato Ravioli. Bongo & Capacci is my friend's father's business based out of Watertown, CT. I've tasted a few of their variations of ravioli and it's an understatement to say that they were all 100% delicious.
Where to Buy Bongo & Capacci Raviolis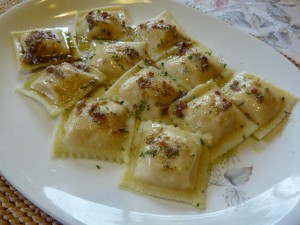 I snagged this box of ravs from our local farmers market (Gossett Brother's Nursery) a few days ago and I've been dying to cook them up. I also absolutely love the fact that every ingredient would look familiar to most everyone, and that I can actually pronounce every single ingredient (no preservatives or weird 15 syllable unnatural ingredients).
To accompany the ravioli I made an herbed brown butter sauce which I salted a little on the heavy side to  compliment the sweet potato in the ravioli.