This is the third time I made this beast of a pizza and it always proves to be a crowd pleaser, and feeds a lot of people. This time the fillings I used were hot & sweet sausage, caramelized onions, mushrooms, red & green peppers, sautéed garlic and of course sauce and mozzarella cheese.
One of the first things you will need a well seasoned 10" cast iron skillet, deep dish pizza pan, or some other heavy pan. I used my cast iron skillet because it holds the heat so well.
What you will need
For the dough:
3 ½ cups all purpose flour
1 ½ cups water
½ cup yellow cornmeal
½ cup canola oil
1 teaspoon sugar
1 teaspoon salt
2 ¼ teaspoons active dry yeast (one packet
For the sauce (guessing on the measurements, season to taste as always):
2 tablespoons dried basil
1 tablespoon thyme
2 tablespoons oregano
1/2 tablespoon garlic powder
2 teaspoons black pepper
2 teaspoons salt
2 cans diced tomatoes
2 cans plain tomato sauce
2 hot Italian sausages (decased) 2 sweet Italian sausages (decased)
For the fillings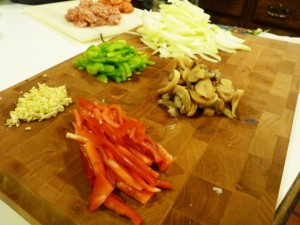 5 cloves garlic
1 yellow onion
1 red pepper
1 green pepper
1 cup mushrooms
2 cups mozzarella cheese
Sauce
First off, get the sauce going. Throw everything in a pot and let it simmer for at least an hour. Originally I only used 1 can of tomato sauce and diced tomatoes with the amounts of seasoning mentioned above and it was way too strong. I was used to my old herbs in my college kitchen cabinet and I was at home using much fresher ingredients. I don't know if this is a traditional sauce for Chicago deep dish pizza but it tastes good! Take the sausage back out so you can use it in the filling.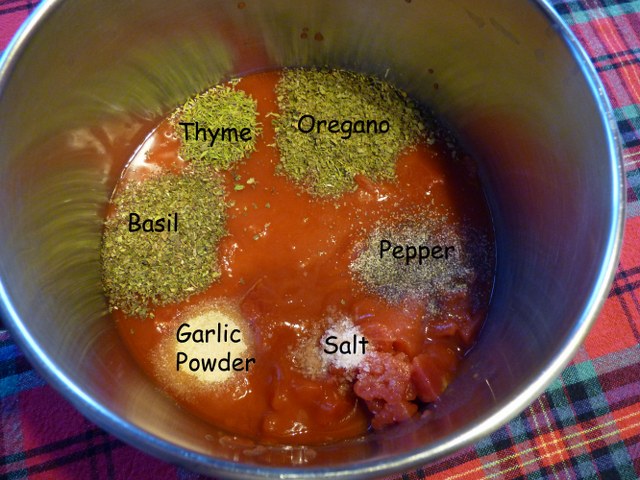 Dough
Next start the dough.
In a mixing bowl add the water, sugar, yeast, flour, cornmeal, and salt. Start the mixer on low until the dough starts to come together and then slowly add the oil. Add more oil than indicated in the recipe if you need to in order for the dough to form a ball around the dough hook.
The dough should be somewhat moist, smooth and not sticky. Form a ball and cover loosely with plastic wrap and then with a damp dishtowel. Let it rise for 45 mins-hour.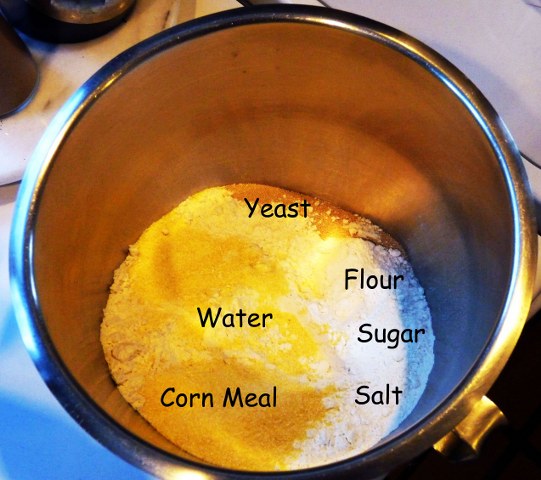 Vegetable Mixture
In the meantime heat 1 tablespoon of olive oil on low-med heat and add the sliced onions. Let them cook for about 10 minutes and then add a pinch of sugar and salt (to help caramelization). Let this cook on low until they are almost brownish and sweet. Now add the chopped garlic, sliced peppers, and mushrooms and cook for a few minutes on medium heat.
When the dough has risen:
This recipe makes a bit more dough than I needed for my skillet so I didn't use about ¾ cup of it. Work the dough out from the center and make sure there is not too much in the corners or it will be way too thick after it is cooked. Let this rest for 15 minutes and work the dough out again after it rises a bit more.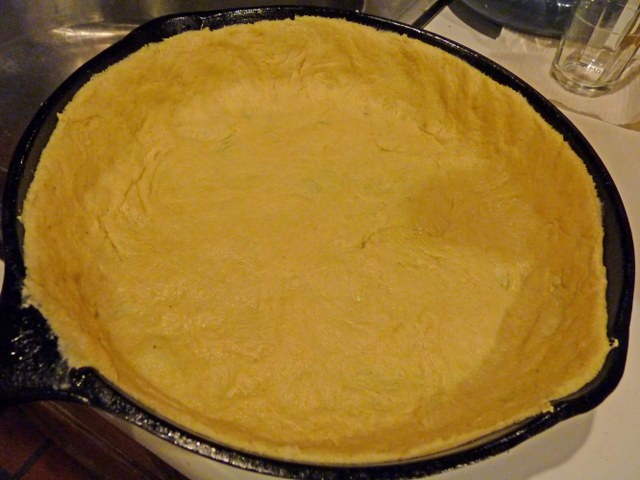 Assembly time!
Since it is a Chicago Deep dish Pizza the order of toppings is a bit different. I actually did it wrong..all wrong (I think).
Taken from different recipes – the right way (maybe)
Put down a layer of cheese
Add your sausage & vegetable mixture
More Cheese
Sauce
Sprinkle with parmesan cheese
You can tell from my pictures how I did it. Not really sure why I counted in Spanish…maybe I was thinking about Uno Chicago Grill.
Bake at 425 degrees for about 30 minutes.
The end result was DELICIOUS. However, a bit too moist. I think if I put the layer of cheese on the bottom it would have help with keeping the crust crunchy.
Hope you enjoyed my first recipe post in a LONG time.
Cheers,
Anthony