Clamming – Rake, Clean, Shuck, EAT & Repeat
A few weeks ago I had the pleasure of going clamming on the Long Island Sound with some of my closest friends on Melissa's boat. I'd tell you the location of our clamming spot but this honey hole definitely needs to be kept as secret as possible.
During this time I felt like I was a wandering man jumping from boat to boat and island to island (got back from my cruise the day before) but when I was asked to come aboard the day before I could barely contain my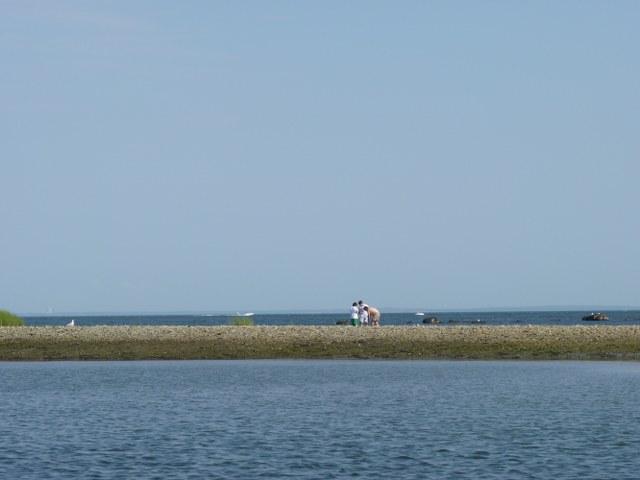 excitement. I live for doing things like this.
After a nice cruise out of Norwalk Harbor we shot over to Long Island, saw Manhattan, and then made our way to the clamming spot.
The Hard Part – Raking and Digging for Clams
Hard Shell Clams
We started off going after hard-shell clams for baked and on the half shell.  In order to catch these clams you need to use a clam rake which looks like a basket on a pole with numerous menacing looking teeth on it. Melissa's Dad was skilled enough to know where to start digging in the water just by the feel of the sand and rocks on his feet. After we found a good spot he started to teach us how to dig for the clams.  At first I thought this was going to be a joke and really easy. WRONG.
Picture this: you are waist deep in the long island sound, standing on a muddy/rocky/ sandy bottom, with stinging jellyfish floating by. Then, you got this clamming master trying to teach a bunch of rookies how to use a clam rake that looks like something out Edward scissor hands.
The Technique
In order to get the hard shells, you need to bury the rake down into the mud just about as far as the teeth on the basket. Then, you need to scrape it along the bottom WHILE keeping enough pressure to keep the teeth stuck down in the mud. Sounds easy right? Go try it, I promise you while be pulling up surprisingly empty baskets during your first tries.
The key is to keep a constant pressure on the rake and make sure the teeth are digging down into the mud.  If you feel like you are stuck on a rock, don't let up, that's usually some clams! After about a half hour I was pulling up baskets with about 3-4 clams in them, along with many empty ones.  Once we had one bushel filled, and the tide had gone out, it was time to go for the soft shells for steamers.
Soft Shell
This method of catching clams was COMPLETELY different and quite odd.  We were not waist deep in water but rather standing on a sand bar that was revealed as the tide went out. The trick to finding the clams is quite easy – all you need to do is throw a rock. When the clams feel the vibrations they must do some scientifically named defensive maneuver but all it really seems like is a clam freaking out. They shoot a spurt of water out of the ground, hence the name "Piss Clams."
Once you see a spurt of water, you start digging a 6-12 inch deep hole. When you have your small middle hole, start gently digging at the sides of the hole. This is where the clams like to stay and will basically fall into the middle of the hole.  If you just try digging random holes everywhere with a spade you will just wind up killing a bunch of delicious steamers! After we got about ¾ of a bucket we decided to call it quits.
At this point 1 friend had gotten a nasty cut from a shell, and there was another cut in the very very close future on another friend. Overall, we were battered and tired.
Preparing Steamers, Baked, and Raw Clams
Once we got back home we were put to work once again – it was time for cleaning, shucking and cooking. I was put in charge of steaming the clams. I was told the ingredients consist of:
A can of beer
Old bay seasoning
Parsley
Pepper?  (I can't remember all the ingredients)
Once the clams start opening up from the steam (5-10minutes) it is time to eat and enjoy! Make sure to discard any clams that don't open.
After the steamers came the baked clams prepared by Melissa's mom. I believe these consisted of the hard shell clam, butter, garlic, bread crumbs and whatever else was in her delicious secret recipe. At this point I did not know how I could eat more but it was time to start shucking more clams for on the half shell.
I thought I would be an instant pro at this. After all, how hard could it be to stick a knife in between two shells and pry it open? It turned out that you really need some skill and put some elbow grease into it. I managed to get through 1 ½ clams. Valiant effort right?  I will forever appreciate every shucked clam I have from now on 100 times more.
It wound up that the raw clams were basically dessert. They were incredibly sweet, buttery, fresh, and amazing. Somehow I managed to pound down a dozen of those before calling it quits.
So there you have it, my first clamming experience. I think one of the most satisfying things was the fact that we all worked hard all day catching these delicious morsels, then worked once again to prepare them, and FINALLY got to enjoy the fruits of our labor.
Hope your mouths are watering!
Till next time, Anthony