How to Make Moist Chicken Breast the Easy Way
I haven't stopped cooking in the last few weeks, that's for sure. I've had some failures along the way including my prosciutto rolls stuffed with roast asparagus, mozzarella, and herb filling. I thought it was going to be a flavor bomb but it turned out to be lacking texture and just plain BLAH. I'm definitely going to tackle that one again.
So on to what I had for dinner! I honestly spent all day thinking of what to cook and it wasn't until 7:00 that I realized what I wanted to do. The result was a chicken breast cooked in a foil pouch along with:
Ingredients for Tin Foil Pouch Chicken & Veggies
Diced onion and garlic
Potatoes
Tomatoes (thanks to Marcs awesome Grandparents!)
Lemon
Oregano
Rosemary
Salt & pepper
Tenderize the Chicken Breast
First you need to get the chicken breast as evenly flat as possible. I resorted to the good old technique of placing the chicken in between two sheets of saran wrap and banging the crap out of it with a coffee mug – works like a charm! After the chicken is tenderized, sprinkle salt and pepper on both sides.
Next, take a sheet of tin foil about 3.5 feet long and double it over. Place the diced onion in the middle then drop the chicken down on top and sprinkle the minced garlic over the chicken. To season the chicken sprinkle some oregano and rosemary on top.
Now pile the tomatoes, asparagus and potatoes on top and squeeze some fresh lemon juice over the whole thing. I also seasoned the veggies with a little bit more salt and pepper.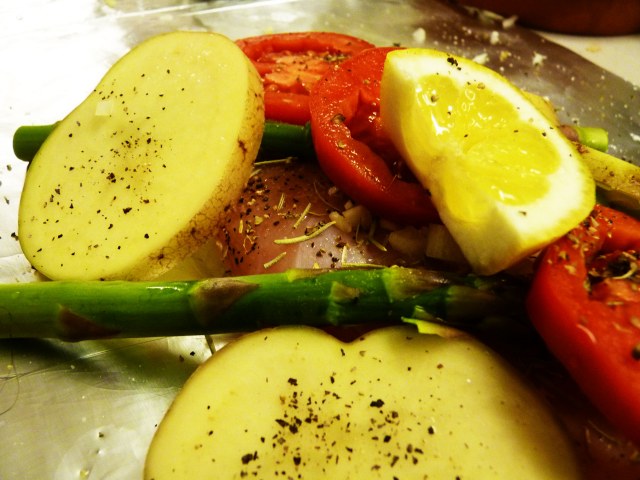 To fold the tin foil pouch, I first did a double fold along the top and then folded the ends back over.
Bake the Chicken Breast
Bake at 350 degrees for 30-35 minutes. Our ovens are not exactly great here at college so it's really hard to tell what temperature I'm actually cooking at, but that suggestion should work. Just make the chicken is white all the way through.
Unwrap the foil pouch and enjoy!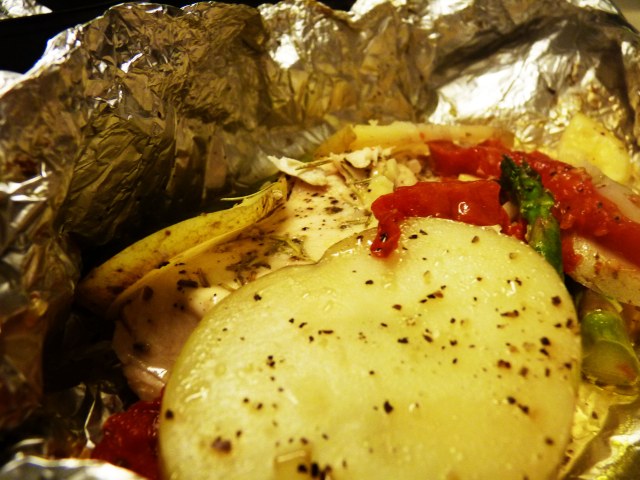 Cheers,
Anthony