Spinach, Ricotta, & Pancetta Stuffed Mushrooms
Ahh yes…time for the vegetarian's steak; Portobello mushrooms!
The filling consisted of sautéed spinach, ricotta, and some seasoning. I then stuffed the caps and topped with a little extra spinach followed by some crispy pancetta that I rendered the fat out of.
Ingredients for  Stuffed Mushrooms
6 decently sized Portobello mushroom caps
1.5 Cups ricotta cheese
10 oz. Spinach (I used one of those frozen packages)
Black pepper
Salt
1 tsp. Oregano
1 tsp. Thyme
1 tbsp. Balsamic vinegar
Extra virgin olive oil
3 Cloves garlic
6 Slices of pancetta
½ Cup tomatoes
Preheat your oven to 350 degrees.
Cooking the Pancetta
 Start by chopping the pancetta into small pieces; remember this is going to be sprinkled on top so chop accordingly. Put the pancetta in a frying pan and cook on med-low until most of the fat has rendered out and the pancetta is crispy.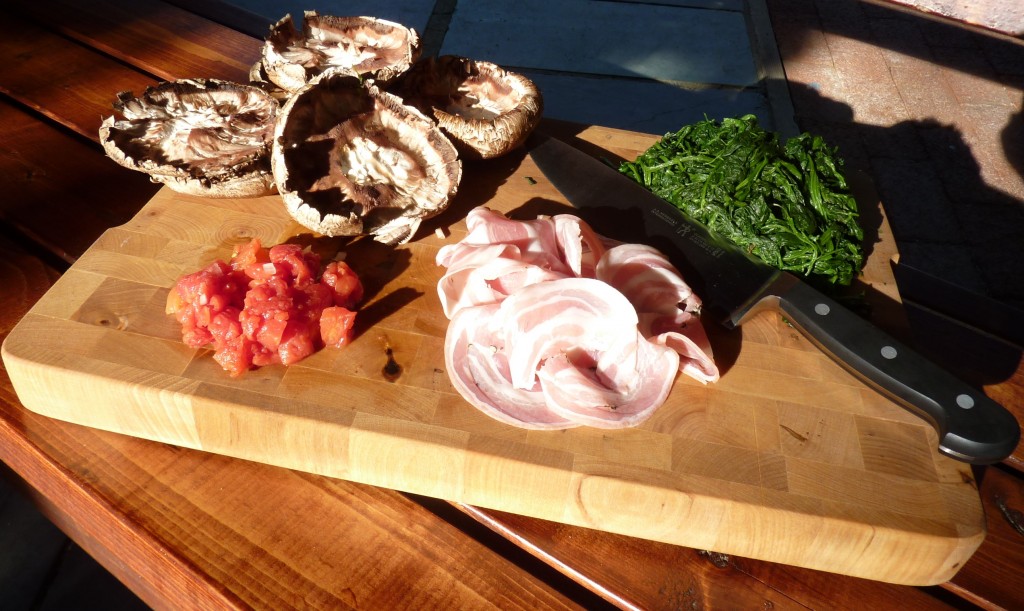 Preparing Portobello Mushrooms
While the pancetta is doing its thing, pull the stems and scoop the gills (technical term?) out from the bottom side of the mushroom cap. These hold a lot of moister that you do not need. Next, coat the caps in olive oil, balsamic vinegar, and sprinkle some salt and pepper lightly.  Cook for about 8 minutes.
Garlic Sautéed Spinach
With that out of the way, give the spinach a light chop (if you are using frozen spinach squeeze some of the moister out of it), mince the garlic and
removed mushroom stems and cube the tomato. Throw the garlic in a pan and sauté followed by the chopped mushroom stems, spinach, oregano, thyme, and 1 tsp of salt and pepper.  Sauté this for 5-6 minutes adding the tomatoes in the last minute or so.
How to Stuff Mushrooms
Now in a mixing bowl combine the sautéed spinach (reserve some for the topping) and ricotta and stuff the caps. Cook the stuffed caps for another 8-10 minutes until the stuffing is heated through and the mushroom is soft and moist.
Top the cooked mushroom caps with the remaining spinach and sprinkle the pancetta bits on top. The saltiness of the pancetta really pops when you take a bite!
I plated the stuffed Portobello mushrooms with my dad's pickled red cabbage and some of the remaining spinach.