I just finished my last class before thanksgiving break and had a hankering for potato chips. Unfortunately, I didn't have any and I'm dead broke so buying some didn't seem like the best idea. What I did had however, was a 20 pound bag of potatoes – not really sure what I was thinking when buying that.
This recipe is actually really quick and makes some really tasty and healthy potato chips.  First start out by preheating your oven to 450.
The ingredients are very precise for this one:
Pinch of salt, pepper, oregano,  and rosemary
Teaspoonish of EVOO, or canola oil
1 good size potato
Wash the potato and start cutting it into about 1/8 inch slices, or about the thickness of your knife blade. Try and get them as uniform as possible so they cook evenly. Next, throw them in a bowl, add the rest of the ingredients, and give it a good stir.  I don't have a large baking sheet so I just placed them on aluminum foil in the oven.
Let them cook for 10ish minutes or until they are starting to get brown and crispy. They burn quickly so watch out! In total this probably took 20 minutes, not too shabby.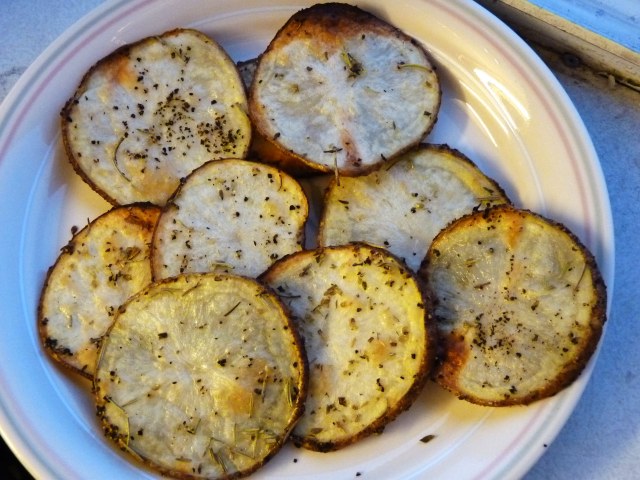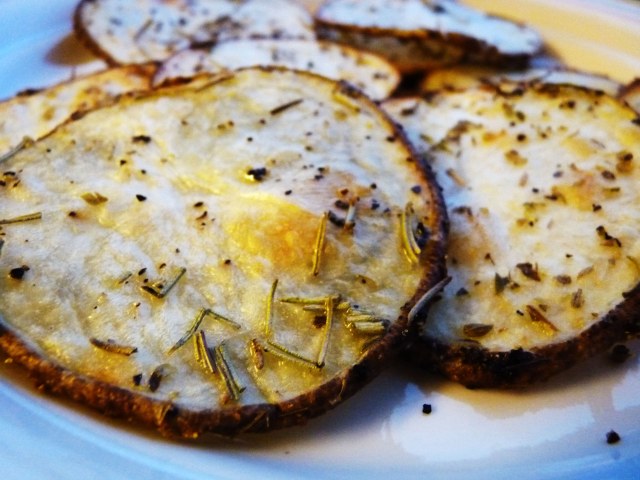 Cheers,
Anthony @ Ground Up Gourmet