Smokeshow 2010 was a  great success!
This year I think it's safe to say that all the food was substantially better minus one thing…the ribs (almost a complete disappointing failure). More on that later.
The masterfully created menu that Tyler and I prepared:
Smoked Pulled pork
Smoked St. Louis Ribs
Smoked beer can chicken
Mac and cheese
Potato Salad
Coleslaw
Cornbread
Tossed Salad
The Rub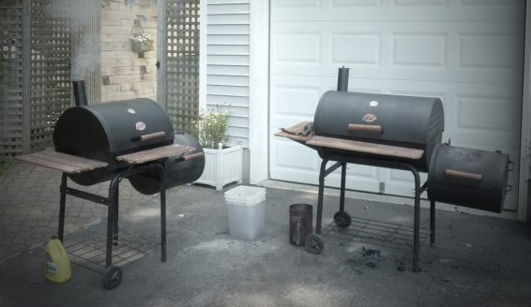 Due to  Tyler and mines ridiculous busy schedule and lack of time, we took a couple shortcuts while making the rubs and sauces.  For the rub we used about a cup of Sticky Fingers Dry Rub. We then added approximately 1.5 cups of brown sugar followed by various amounts (we didn't measure at all) of garlic powder, cayenne pepper, white pepper, cumin, thyme, paprika, chili powder, and a secret ingredient (hint: it starts with a 'C').
We didn't measure because with rubs I think you really just have to add things until it tastes how you like. Not until you get a consistently mind blowing mix that you try to duplicate it.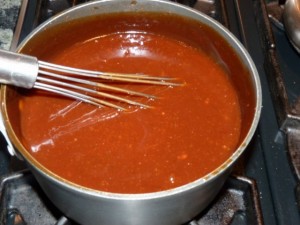 BBQ Sauce
Once again we  unfortunately had to take some shortcuts here. We used a couple different bbq sauces as a base and then added various spices (the ones listed above) until we got the taste we wanted. We then let it simmer for about 30 minutes or  so it could reduce and concentrate the flavor.
PORK TIME!
Butts:
First off,  get a bone IN pork butt. It will keep the meat moister and add flavor. When you get a bone out pork but you are left with a hunk of pork shoulder with a flap of meat (where the bone was cut out) that does not cook evenly.
Click for full size images
To prep the butts we first removed most of the fat cap. Next, I broke out one of my favorite kitchen tools – a flavor injector. The marinade I  made consisted of 1 cup apple juice, 2 tbsps apple cider vinegar,  and a pinch of pepper. Be careful not to inject the liquid too quickly otherwise you will get a face full of  marinade with the added bonus of raw pork juices – YUM. Trust me; I learned the hard way…multiple times.
Now that your pork butt is bursting with juices (hopefully not all over your face), you need to coat the butt in mustard so that the rub will stick. You won't taste the mustard don't worry. Next, generously coat the butt in your rub and wrap tightly in saran wrap overnight.
Ribs: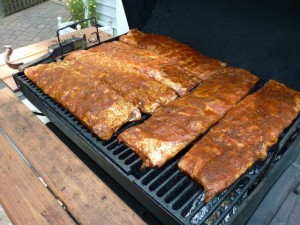 The first thing you need to do in order to prepare the ribs is remove the membrane off the bone side of the ribs. This can sometimes be a real frustrating experience but don't skip this step!
To help you out try this trick; lift at least one edge of the membrane off the bone and get a spoon under it with the face of the spoon facing towards the bone. This will help you get a grip on the membrane.
Once the membrane is off, generously coat the ribs in rub. and wrap tightly in saran wrap over night.
The Sides
For the sides, I won't go into too much detail because recipes are so readily available. Until I make some sort of award winning recipe for these I'll hold off on posting something.
Click for full size images
This concludes Part 1 of Smokeshow 2010 prep. Next up, the good stuff – cooking and the finished product!
Cheers,
Anthony