Today Ground Up Gourmet got its second submitted recipe!
I still haven't gotten around to making Beer Cheddar Cheese soup, sorry Leah.
Thank you Sarah for the following quick snack recipe:
"This is a great power snack that takes just a couple minutes to throw
together! Layer apricot jam, thinly sliced deli turkey, avocado, and
brie cheese on top of a toasted whole wheat English muffin. Pop it in
the toaster oven until the brie melts, and enjoy!"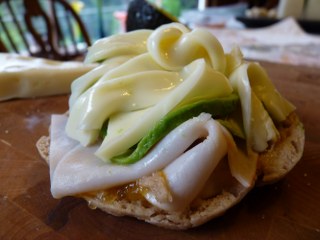 I had most of the ingredients at home already so I whipped this up real quick after work. It was amazingly delicious for something so simple and definitely a hit among the family.
With the leftover avocado I made a simple  salad with some craisins, lemon juice, salt and pepper.
Thanks again Sarah and keep the recipes coming everyone!