My fellow foodie friend Rebekah and I are huge fans of our local bakery's fresh baked bagels, and we are known to make a quick stop on Sunday mornings for their unique deliciousness. However, we felt it was time to take on the task ourselves, and make our own bagels with our own special flair. Montreal style bagels, or so they are called around these parts, are particularly delicious so we found a basic recipe and built off of that.
Here's what you're going to need:
4-5 cups of whole wheat flour (depending on consistency)
1 1/2 tsp. instant yeast
1 1/2 cups warm water
4 tbsp honey (will use separately in 2 tbsp quantities)
3 tbsp corn meal
(note: this ingredient as not found in ANY bagel recipe we found…however Katie insisted it was necessary to give them a unique texture, we think you will be pleased as well)
3 tbsp vegetable oil
4 tpsp white sugar
1 1/2 tsp salt
1 tsp malt powder OR packed brown sugar
(note: we believe this is the secret ingredient to the elusive "Montreal style" taste- we actually had no malt powder but used brown sugar which worked just splendidly…in the future we plan to see if there is a difference)
2 tbsp beaten egg
Prepping the Dough
Dissolve the yeast in the warm water, hand whisking in a big bowl and allowing 2-3 minutes for it to dissolve. Then add in the oil, egg, sugar, salt, malt powder/brown sugar, 2 tpsp of the honey, and the flour. If you have a standing mixer, you can use it on the lowest speed to mix it for 10-12 minutes, using a dough hook if available. Now, we didn't have any such fancy machine so we used the sheer strength of Rebekah to knead that dough into shape. Mix or knead it until it forms a stiff smooth mass, adding more flour if necessary. Cover it with plastic wrap and let it rise for 10 minutes.
Shapin the Bagels
Separate the dough into twelve equal sections. Roll them out on a well floured surface to make 10 inch ropes. Fold the ends together and do your best to form them into a continuous ring. We found that using a bit of water on the fingertips made it easier to make the shape stick. Place bagels on cookie sheets lined with parchment paper and allow them to sit for 10-12 minutes, they should get slightly puffy.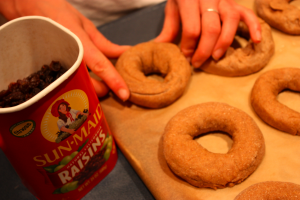 Boil Boil Boil
Get the oven preheating to 425.
Fill a large soup pan or pot 3/4 full of water and bring to a boil. Add the additional 2 tpsp of honey to the water. Reduce heat so the water is simmering and place bagels in, a few at a time, making sure they aren't too crowded! Leave them on one side for 1 minute, flip and allow them to simmer for about 45 seconds more. Remove them and place them back on the parchment paper.
Now this is where you can get creative! If you want to add poppy seeds, sesame seeds, onion, cinnamon sugar, etc. this is the stage where its gotta happen. The bagels will be slightly sticky from boiling and the add ons should stick quite well. We chose to make a few cinnamon sugar and also added raisins to some. Unfortunately, we made the decision to add raisins a bit too late, and if we had the chance to do it again would probably have added them much earlier in the kneading process.
Bakin the Bagels
Once your bagels are dressed to kill, stick them in the preheated oven and cook for about 15-20 minutes. Flip them over and cook for an additional 5 minutes, or until browned on each side. Remove from oven, place on wire rack to cool, and enjoy!
We recommend almond butter, yummm! But of course you can put on any shmear you find delicious.
Hope you enjoy the beautiful pictures, taken by Rebekah Phelps, who has an eye for this sort of thing.