The first time I whipped this little number up was while I think I was supposed to be studying. Food distraction = the best justification for procrastination. This dish requires a few components that you need to address separately but it is still very simple to do. Honestly, the hardest part of this dish proved to be finding the aisle with jelly – no joke, it took a good 10 minutes.
Ingredients:
3 Chicken breast
1/2 cup Almonds
1 cup Braeburn apples (great for cooking)
1 cup Brie cheese
1 small Onion
3 Cloves garlic
1/4 cup Craisins
Salt
Pepper
Extra Virgin Olive Oil
4 tbsp Apricot jelly
2.5 tsp Balsamic vinegar.
French baguette
The Almonds: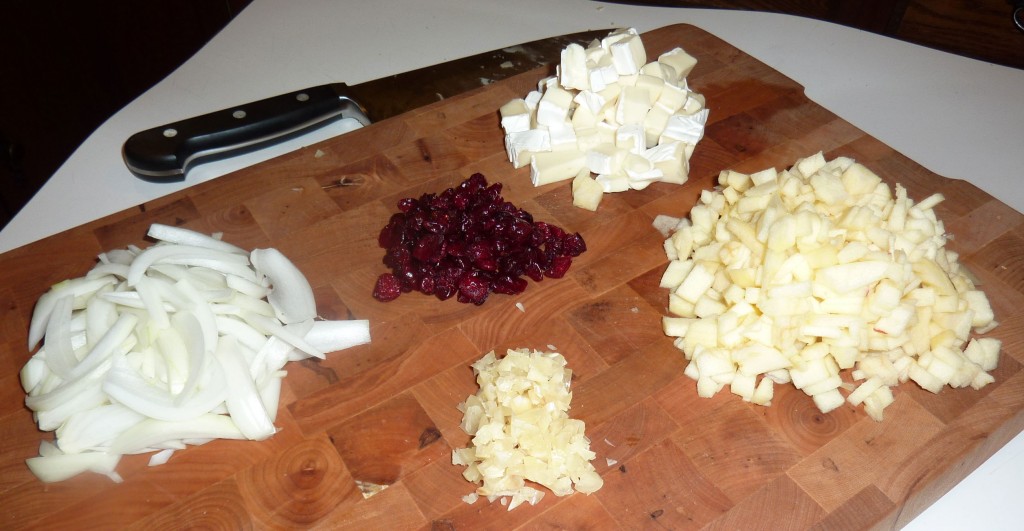 Preheat the oven to 350 and place the almonds on a baking sheet. Bake for about 20 minutes or until they have a nice roasted flavor. Let them cool off then chop them to a fine consistency in a food processor.
The Onions:
Slice the onion in half (top to bottom). Then lie on the flat side and cut the length top to bottom about the width of a shoelace. More simply put just make little stringy onion slices. If you have a large onion, about half will do but a whole smaller one will work fine. Place them in a skillet with about 1.5 teaspoons of olive oil on low-med heat. Let them do their thing for about 10 minutes. At this point you can add about a half teaspoon of sugar to get the caramelization going. Cook for about another 20 minutes until they are browned and sweet.
Brie:
Cut into small cubes. Easy.
For the chicken: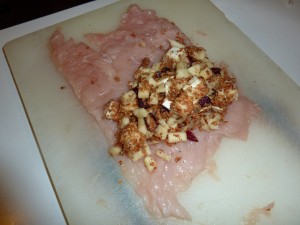 Tenderize and thin the meat by hitting it meat tenderizer (or anything flat, I used a coffee mug at school since I didn't have a meat tenderizer in my college arsenal of kitchen tools). Also, don't forget to cover the chicken with plastic wrap so you don't spray possible salmonella and raw chicken juice everywhere – such as your laptop…Whoops!
Brush some olive oil on and sprinkle the chicken with salt and pepper. Mix the apples, cheese, onions, garlic, crasins, and 1 tsp salt & pepper together and place on the chicken. Get creative here. Stuff and roll it, stuff and fold it, do whatever you want! If you roll it, tie it off with butchers twine or use toothpicks.
Bake at 350 for about 20-25 minutes, or until the chicken is 160 degrees.
Balsamic Apricot Glaze:
While the chickens cooking, start the Glaze. Combine the jelly, balsamic vinegar, and about 2 teaspoons water and simmer on low until it all comes together. Simply place on top of the chicken after its done cooking.
Crostini
I added the crostini in because I was eating this with soup. Slice it, butter it up and sprinkle with salt, red pepper, chopped almonds, and parsley. Cook under the broiler until they are nice and crispy.
One thing I would have changed is to roll the chicken in chopped almonds before baking to give it a little bit of a crust.