Ever since I heard our local blueberry farm was open for picking I have been anxious to get up there, nothing better than searching for big juicy berries while watching the sun sink below the mountains on a weekday night. This past week they even had some local blues band playing, and people bring picnics to sit and enjoy the music while gathering the freshest blueberries around.
I end up eating just as many as I take home with me, but still usually manage to take back a few heaping quarts. At this point I usually end up throwing them into muffins, making a blueberry crumble, or maybe some blueberry banana bread. These are all well and good but I wanted to something brand new that I had never tried to create before, and would never even think to make. So I decided to try out two unique recipes: Blueberry Avocado Salsa and Blueberry Quinoa Bars.
Blueberry Avocado Salsa
I know, I know it sounds crazy, but the combination of flavors is surprisingly delicious
Here's what you're going to need:
1 1/2 cups fresh tomatoes, quartered
2 cups fresh blueberries
2 tbsp lime juice + extra for drizzling onto avocados
1/4 cup green onions, chopped
1/2 cup fresh cilantro
1 tsp sea salt
1 ripe avocado, cut into small chunks
If you like it spicy, you can also add in some jalapeño, but I kept mine on the mild side
Directions are pretty simple, put all the ingredients in the blender EXCEPT the avocado and pulse a few times until somewhat smooth. Add in the chunks of avocado and some more salt if you desire, and voila its done!
I also made some pita chips for dipping my cutting up some whole wheat pita pockets, drizzling with some olive oil and salt, and sticking them in the oven at 400 for about 10 minutes or so
Blueberry Quinoa Bars
For those out there who don't know what Quinoa is, it's actually a pretty amazing food that I have discovered recently. It's part of the grain family but provides all 8 essential amino acids plus 14 grams of protein per 100 g! Talk about a super food.
Usually you find quinoa in salads kind of like a bulgar wheat or a couscous but I had never thought of using it for baking. These bars are great for taking on the go though, and packed with lots of energy to get you through the day.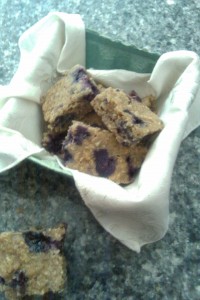 Here's what you're going to need:
2/3 cup butter
1 cup dark brown sugar
2 eggs
2 teaspoons vanilla extract
1/2 teaspoon cinnamon
1/2 teaspoon sea salt
3 cups cooked Quinoa (very easy to prepare, just like a rice)
1/2 cup whole wheat flour
1/2 cup unsweetened coconut
1 cup Blueberries
1/2 cup finely chopped Walnuts
Preheat the oven to 350
Mix the butter and sugar, then add the egg and blend
Add the vanilla, cinnamon, sea salt and mix well till smooth
Fold in the whole wheat flour and combine.
Add in the cooked Quinoa and fold in the blueberries and walnuts.
Gently mix it all together
Spread this thick mixture into a lined brownie pan, I used waxed paper and it came out quite easily!
Cook for about 30 minutes or until the top is slightly browned and the sides start to look crispy.
Let them cool, slice, and enjoy!