So, it's been a long time since my last post. I've been a bit lazy… AKA on my LAST winter break sitting around and watching some quality TV, and then started off on my LAST semester of college…ugh.
Anyways, I kind of lost the need to cook  over break since my culinary master parents do most of the cooking at home and it is a daily pleasure to dine on their meals. Every night at 6 PM since I can remember – family dinners simply can't be beat!
I did manage to get a few meals in here and there such as Chicago deep dish pizza, anchovy pizza on a pizza stone (yeah I know, anchovies are a love or hate kind of thing), rum balls, homemade baileys crème, biscotti, some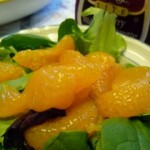 delicious salad dressings, and uhhh the new Four Loko + Red Bull and some Gin & Tonics.
However, I didn't just sit around all break. The creative gears were turning. The current WordPress theme I am using is quite rudimentary and makes things quite tough in order to make it work the way I want. Therefore, the look and feel of GUG may be changing but it will still have same great posts. Sit tight and hopefully I can jump back on the blogging wagon soon enough.
Cheers,
Anthony