So I'm sitting in bed, under 2 blankets, next to my window, cold from the New England weather, and trying to enjoy some quality Food Network programming while I dig through some old pictures. Thankfully, I stumbled across a few that make me think of summer and all its warm sunny goodness. The recipe I found would be a watermelon, mint, and feta cheese salad. Even though this turned out to be a FAULURE, it still looks tasty right?
I was told this combination of ingredients actually turns out to be amazing, so I decided to try it out despite my reservations. I partially blame the failure on the feta cheese. I accidentally got fat free and it tasted like…play dough? Also, I didn't have red wine vinegar so I used apple cider vinegar which probably was a bad decision. But I digress, here are the ingredients:
2 cups cubed watermelon
5ish fresh mint leaves sliced thin
Pinch of salt & pepper
Splash of red wine vinegar
2 tablespoons feta cheese
Combine all the ingredients and…enjoy?
If anyone has had better success with this please let me know!
Oh, almost forgot, why was it a failure? Well the ingredients just simply did not come together as expected.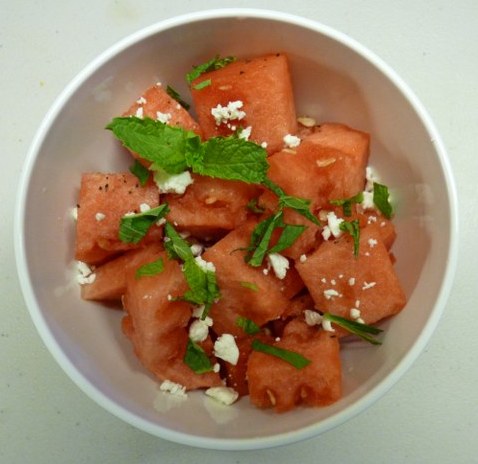 Adios,
Anthony